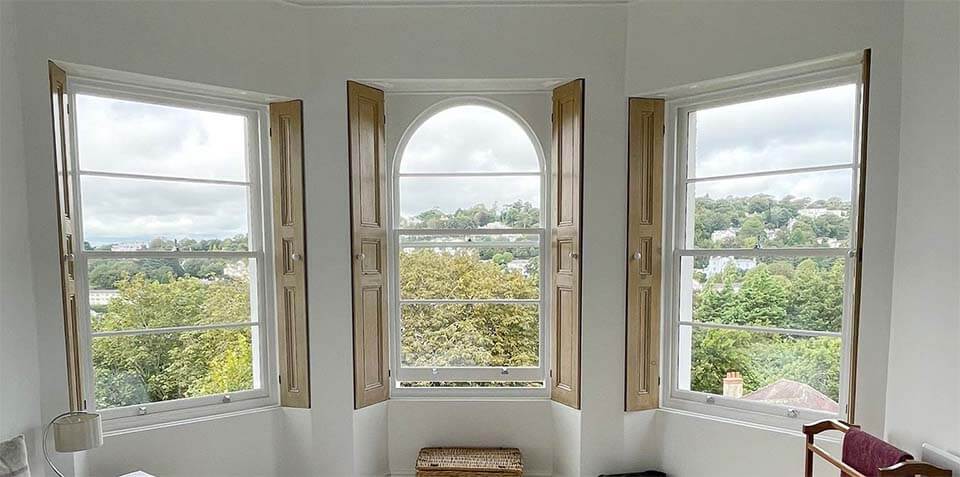 24 Apr

How to Look After Your Timber Sash Windows

Timber sash windows have long been a popular choice. Delve into the history of sash windows and you'll discover they go back as far as the 17th century. 'Historic examples – including their glass – are integral to many old buildings,' remarks the Society for the Protection of Ancient Buildings.

Whether you live in a period home or more modern residence, sash windows can be a great asset. You can fill your home with sunlight and fresh air whenever you wish, as well as keep bad weather and draughts out. High-quality timber (such as Accoya, one of the outstanding timbers we use for our stunning Devon sash windows) is not only beautiful but also an excellent insulator and extremely durable.

Sash windows can last for generations when well looked after. So it pays to familiarise yourself with basic sash window care and check for any signs that your windows need professional sash window restoration.
Open and Close Them with Care
Because window sashes are designed to glide easily, you may be tempted to quickly throw your lower sashes up as far as they'll go. However, opening your sash windows in a hurry or with excessive force can damage or unbalance them.
A better way to open a sash window is to carefully unlock the sash fastener, put your fingers under the sash lifts at the base of the sash and lift with firm, even pressure. To lower the sash, grip the sash lifts or place your palms over them and draw them downwards, again with firm, even pressure.
Always check your windows are properly closed before re-locking them to avoid putting timber or ironmongery under strain.
Simple Sash Window Maintenance
Timber sash windows are undoubtedly low maintenance. But there are a few things you can do every few months or so to help ensure they continue to serve you as well as possible for as long as possible.
Cleaning the Glass
To make the inward-facing glass sparkle, clean it with a high-quality glass cleaner and microfiber cloth. Spray the glass cleaner liberally onto the glass and wipe from top to bottom. The cloth's ultra-fine fibres will remove even minute specks of grime, etc. without scratching the glass. Carefully dry and polish the glass with another cloth to remove any streaks.
You could clean the exterior glass this way too, but it's likely to be safer and more convenient to hire an experienced window cleaner instead.
Cleaning the Frames
To clean your sash window frames (including the tracks, where the sashes slide up and down), begin by running a soft, dry cloth over the timber. This should remove surface grime and dust. A vacuum cleaner with a nozzle attachment can be helpful if you spot any cobwebs.
Next fill a bucket with a mixture of warm water and mild detergent. Dip a soft sponge into the solution, squeeze it so it isn't too wet and wipe down the timber. Some sash windows, especially those in Victorian and Edwardian homes, have many carved decorative details. If this sounds like your windows, you'll want to wash them particularly carefully, getting into all the nooks and crannies.
Excess moisture can damage the frames, so don't forget to towel-dry them thoroughly.
Lubricating the Tracks
To make sashes glide more freely, rub a lubricant into the window tracks; examples include beeswax polish, candle wax, a damp bar of soap, and a silicone spray. At regular intervals, close each window and then re-open it. This will help to ensure the lubricant is spread out evenly. Continue this process until the sashes operate smoothly.
Oiling the pulleys can also improve performance.
Devon Sash Window Restoration and Replacement
What can you do if you notice one or more of your sash windows has developed a problem that goes beyond the realms of basic sash window maintenance?
The answer is to request help from our Devon sash window restoration specialists. We resolve all kinds of sash window problems, such as:
Sashes that drop or won't open
Spongy, rotten frames
Rattling, draughty windows
Leaks and excessive condensation
Damaged glass
Broken sash cords
Faulty pulleys and fasteners
For example, we recently fitted replacement, energy-efficient Accoya sashes for a customer in Torbay, matching the existing profiles exactly.
Plus, we have considerable experience of working within the additional planning restrictions applied to listed buildings and conservation areas.
And if your sash windows are beyond repair, our master craftspeople can design, produce and install stunning new timber sash windows that are perfectly in keeping with the age and character of your property.
For Devon sash window restoration and replacement sash windows, simply contact JTP Joinery today.